What do Paladino Trasporti and Sor Ibérica have in common? The answer is quite simple, since 1970 both companies have focused their objectives in the transport of refrigerated goods. SOR as a manufacturer and Paladino as fruit, vegetables and meat transport company, throughout Italy.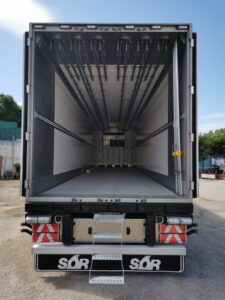 For this reason, Paladino Trasporti has added to its fleet a new SOR hanging meat semi-trailer with a grey DAF chassis & BPW tridem with an auto-steering axle. The customer has chosen the aluminum finishing which includes: Durabright aluminum wheels with Michelin Multi T tires and metal bolt covers. Also, aluminum rear under run. The chassis is equipped with a sliding rail, waste water tank with double tap, double LED rear lights and reinforced landing legs. In addition, the Wabco EBS is equipped with a TASC valve.
The box, includes aluminum floor, two ventilation windows, closed pallet box and spare wheel holders, meat guides and stainless-steel finishing.
The stainless finishing includes, in this case, the protection of the doors, mudguards, and spray suppression by balance covering.
A very complete semi-trailer for a demanding customer. Thank you Paladino Trasporti for your confidence!