Agencia de Transportes Almiramar SL is a family business founded in 1960 by Mr. Manuel Jiménez Gallardo, dedicated, in its beginnings, to the purchasing, selling and distribution of fruit and goods in general, in "Las Ventas del Carrizal" a small village in Jaén (south Spain).
In 1997, with the new distribution of the fruit and vegetable purchasing and selling sector into larger management companies, the founders decided to redirect the company. The experience gained in the transport and logistics of perishables allows them to specialize them in logistics operator. This is how, the Almiramar SL Transport Agency as we know it today, was born.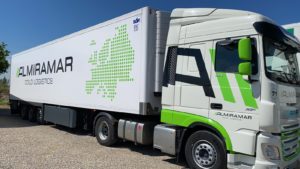 In addition to its cold line, in which they provide service to the entire chain (field collection, storage, logistics and delivery of refrigerated products), the company has extended its portfolio of services to exports with a general cargo line to which they have incorporated, in 2019, five 26Tm dry load semitrailer.
Punctuality, seriousness and commitment are the keys to this company which, from the beginning, bet on the transport of refrigerated goods. Firstly, in the fruit and vegetable sector, then with the transport of these, but also with the warehouse and cold logistics service for its clients, thus completing the chain.
"We have a fleet of 40 vehicles on our own although, as an agency, we manage more than 100. We are proud to be able to say that all our vehicles are less than 3 years old and are completely monitored which allows us, on the one hand, to give a better service. But also, to be responsible with the environment since we have provided our trucks with the best technology available for the reduction of polluting gases". Jesús Jiménez, CEO of the company's, tells us.
Almiramar fleet continues growing, in this case, with new acquisitions of SOR semi-trailers for its international business.