This is what media is saying…. 
Optimising distribution and contributing to environmental improvement are some of the main features of this new Disfrimur XXL truck
Disfrimur, a road transport company from Murcia, is preparing to launch the largest refrigerated truck in Spain. It is a 32-metre, 70-tonne lorry with a capacity of 66 europallets, twice that of a trailer at present. The set is composed of a 640 horsepower tractor and two SOR refrigerated semi-trailers, joined by a Dolly, a device that allows this connection to move a greater volume of cargo.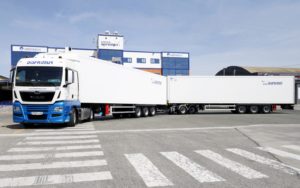 Disfrimur's fleet continues to be renewed and improved with an efficient vehicle adapted to an improvement in the transport sector. Designed to contribute to your project of transporting more goods with fewer resources, working on improving load capacity and reducing consumption and emissions, incorporating more efficient and less polluting vehicles for the environment. "At Disfrimur, we continue to work in continuous development, with the aim of offering the most competitive transport services, with the highest quality, at the lowest cost and in the shortest possible time. Because innovation, together with effort and commitment to our environment, can create great projects" said Juan Sánchez, general manager of Disfrimur at the presentation of the vehicle.
The vehicle will circulate in experimental mode throughout Spain, within a project with the University of Zaragoza, the manufacturer SOR Ibérica, MAN industrial vehicles and the Directorate General of Traffic.