Moeijes Internationale Transporten has strengthened its fleet with  a new combination on its route to Germany for the transport of vegetables, fruit, plants and flowers.
One of the essential characteristics of this family business is the high volume conditioned transport so this specially designed combination fits perfectly with the objective set.
Efficiency as the spearhead
The challenge set by Moeijes Internationale Transport is efficiency. Efficiency in both routes and vehicles.  That is why the configuration of its semi-trailer/trailer combinations, which makes a maximum load of 115 m³ possible, plays a very important role. More payload, more efficiency. Also from the point of view of taking care of our planet.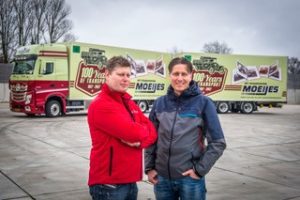 For many years this Dutch company, now managed by Moeijes brothers, has placed its trust in Sor for two main reasons. "On the one hand because of its lightness and great robustness at the same time, an indispensable requirement in the efficiency we seek, but also because of its maneuverability/safety for our drivers", says René Moeijes, General Manager.
Completely customized vehicle
The challenge set by Moeijes was to be able to load one more flower trolley for the route. To do so, we redesigned together with Burgers Aalsmeer the unit paying special attention to the frontwall. Also working on the thickness and equipment of the doors. Thus, we were able to meet expectations and at this time the customer can load 44 pallets instead of the 43 that made up the maximum load to date. The interior height, more than 2800mm, is another special case since the unit still respects the total height.  The vehicle is completed with a fifth wheel height of 950mm and a cooling unit placed under the chassis. Finally, the chassis was designed to comply with the turning radii required by German standards and is therefore equipped with double tridecs in the tandem.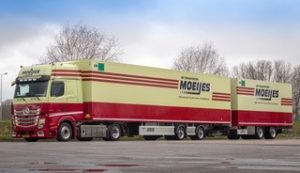 Moeijes has 8000 m2 storage areas in the Westfrisia-Oost industrial zone in Zwaag. This is a central and easily accessible location (close to the A7) in the province of Noord-Holland. It is specialized in the refrigerated transport of fruits, vegetables, plants and flowers. Thank you Moeijes, ones more for your trust!