Sor has manufactured the first two multi-temperature semi-trailers with 100% electric operation in Spain.
There are many projects that are currently underway to reduce emissions and the carbon footprint. Non-fossil fuels, renewable energies, 44Tm, Euromodular, Mediterranean corridor…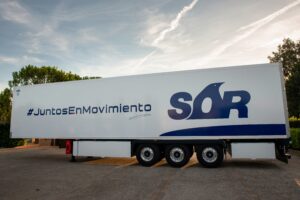 SOR Ibérica, together with some of its clients, is also working on these projects that contribute to reducing greenhouse gases and complying with the 2030 agenda.
In fact, already for some time now, some vehicles have been tested with generator and recuperator axles whose generated energy serves, for example, to power the cold equipment. Some tests have been carried out in Spain on single-temperature units but SOR has gone one step further and has equipped two of its vehicles with multi-temperature equipment with 100% electric operation. First zero-emission Multitemperature semi-trailers in Spain.
One of these vehicles, which will be exhibited at SOR IBERICA SA stand 4D122 at the next Solutrans show, which will take place in Lyon from November 21 to 25, is equipped with powered Advancer Multitemperature equipment by BPW's Axle Power system.
This system, jointly developed by Thermo King and BPW, allows the Advancer Multi-temperature refrigeration unit to operate in electric mode, without producing emissions and with a low noise level. In this way, the fleet can discharge at night in urban and low-emission areas, thus increasing its efficiency.
Axle Power equipment recovers energy while the vehicle is traveling on the road and converts it into a power source for the refrigeration equipment, maintaining charging at an optimal temperature and with a sufficient level of autonomy.
We work to help you meet your objectives. #togetherinmovement